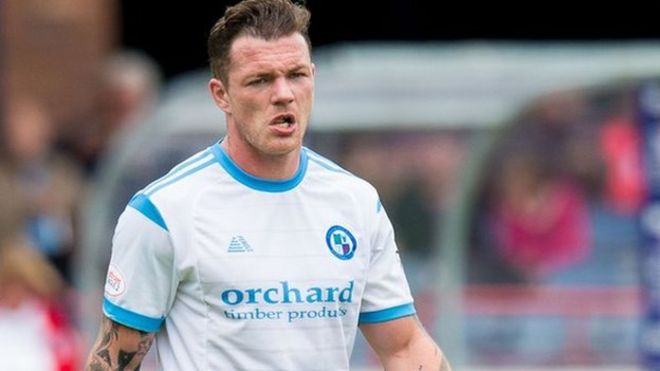 David Cox, a Scottish football player, has been taunted by both fans and fellow players for revealing his battle with depression.
The Scotsman reports, "David Cox, who plays for League Two side Cowdenbeath, said he had been called a 'psycho' and taunted about 'slitting his wrists' during matches."
David Cox has reported the cases to the Scottish League.
BBC explains, "The 28-year-old has called for the game's authorities to act on the abuse in the same way they do against racism."
David Cox shared with The Daily Record, a Scottish news source, his struggles with depression.
Per The Daily Record, "The striker – who plays for League Two outfit Cowdenbeath – first told the Daily Record of his struggles with his mental health demons in 2014 while playing with Peterhead."
If the taunting continues, David Cox has threatened to walk off the field.
The Scotsman, Scotland's national newspaper, reports, "The 28-year-old said if the abuse continued he may simply walk off the pitch, as the uproar this would create would be the only effective way to draw attention to the issue."
It's not just fellow teammates who are taunting David Cox, but also fans.
"You get the fans that come in and pay their money," Cox shared in an interview, "They say what they want and then they go home and forget about it, and I'm the one that it affects."
Even though other players may taunt him, they admire his openness about his struggles.
Per The Daily Record, "Cox said the same players then contacted him after the game to apologise – and some even revealed how mental health problems have affected their lives."
David Cox has been struggling with depression since he was a teenager.
The Scotsman reports, "In May last year, the striker, who previously played for Forfar Athletic, said he had suffered from depression since the age of 15 and had tried to kill himself as recently as 2016."
Opponents used his mental illness to their advantage.
BBC explains, "The former Forfar Athletic striker said that on the pitch, opponents had used his depression to undermine his efforts during games."
The SAMH provides mental health care and support for those who are suffering from mental illness.
Pray for an end to the taunting of players, fans and opponents.
Pray for the church to come behind David Cox and support him.
The Scotsman: Scottish footballer David Cox taunted by fans over depression
BBC News: Players taunted footballer over depression
The Daily Record: 'Slit your wrists' Rival Players and fans taunt footballer who bravely revealed his mental health demons